Today's post is being linked up with Shell 's at Things I Can't Say Pour Your Heart Out meme. I love the idea of having a safe place to express whatever is in your heart.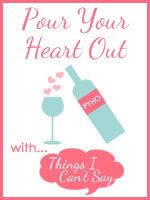 It started out as a little girl's dream, a vision of what her life would be when she grew up.
It was in the map that she had set out for her life, a line that she would follow.
And although the map led her to exactly where she wanted to be--where she needed to be--you were missing when she got there.
She waited patiently, dreaming of how it would be when you would arrive.
Dreaming of what you would look like, what you would sound like, what the relationship would be like.
Would you have blonde hair that turned light brown with age just like she did?
Or would you have your daddy's dark brown hair from the beginning?
Would you have large expressive eyes that with just one look could see what you were thinking and feeling?
Would there be the special, undeniable bond just like she had with her mother?
Would you follow her around hanging on her every word like she did?
Would you find yourself wanting to be just like her?
Would you sit in the bathroom as she got ready to go out for a night on the town watching her getting ready and being amazed at how beautiful she was?
Would she be able to teach you all the things that she was taught without forgetting anything?
As she waited and wondered, time passed, life happened, and a beautiful family was created.
A family that she was extremely thankful for, proud of, and one that brought tears of joy to her eyes every time she looked at them.
She beamed, watching her children play and grow.
She knew they were meant to be hers and she was meant to be theirs.
That the whole family was right where they were meant to be, together, happy….and most importantly loved unconditionally.
Yet there was something missing, something unfulfilled…you hadn't arrived.
As time went on, the little girl now a grown woman started to realize that you would never arrive.
It was a hard reality that she had a difficult time coming to terms with.
Something that she always thought would happen appeared never to be.
There was never to be baby dolls throughout the house….mourning you.
There was never to be a dance recital to attend…..mourning you.
There was never to be pink anything….mourning you.
There was never to be a princess-themed birthday party…..mourning you.
There was never to be ears being pierced or nails to be painted…..mourning you.
There was never to be prom dresses to pick out together….mourning you.
There was never to be a wedding with you in a beautiful gown…mourning you.
There was never to be a day where she witnessed you giving birth to your own children and finally realizing what a wonderful gift life and love is……mourning you.
I am that little girl turned grown woman and you....you my love are the daughter that I will never have and I mourn you a little bit (or sometimes so much it hurts) every single day.