The questions started early in the morning before breakfast.
Mommy, when can we go Trick or Treating?
After school
Mommy, can we go Trick or Treating NOOOOWW?
Right as my husband walked through the door.
Mommy, Daddy is home lets go, lets, go, LETS GOOOO!!!!
It wasn't looking good and two little boys were on the verge of panicking.
Okay, Okay
I say.
Let's get you guys into your costumes and we will take our pictures.
They were so excited to just be in their costumes.
They spent the next 30-45 minutes "practicing" their doorbell ringing, Trick or Treat asking and "Thank You" techniques.
Then they took it upon them selves to save the world and rid it from all it's evil candy.
It's a tough job.
Then I asked for Just ONE more picture with their baby brother! This of course turned into twelve pictures before I could get Buggy to look at me.
Finally!
We were off.
Had a fantastic time at our friends house for pizza, wine (adults only of course gesh) and trick or treating in their neighborhood.
Then it was off to Nana and Papa's house for pictures galore and some awesome Halloween presents!
Then back to our neighborhood for the final wave of Trick or Treating.
At the end of the night I had three very happy and excited little boys.
Well, wouldn't you be?
Look at this haul!!
Here's hoping our children come down from their sugar high sometime this week!!
Linking up with the fabulous Nicole at
By Word Of Mouth Musings
because I think this fabulous Bat should be named HARVEY!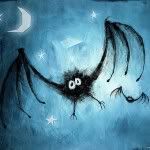 And also with the amazing Jessica at
Four Plus An Angel
and
Tracy at Sellabit Mum
for Boo In The Blogosphere

And of course since all the pictures were taken with my iPhone Camera, I'm linking up again for #iPPP